The function of this independent organization is the further development, standardization and advancement of the VARAN bus as a high performance data bus in automation technology.
Members and interested users receive consultation and information on the VARAN bus.
The VARAN Bus User Organization is responsible for the further development, research and application of new technologies.
Means for meeting these requirements are:
Lectures, meetings and discussions
Issuing and circulation of publications and information material
Constructions and maintenance of an information and communication network
Organization and conducting training events and technical meetings
Efficient marketing
Formulation of standards and norms
Chairman
Dipl.-Ing. (FH) Werner Faulhaber
ARBURG GmbH + Co KG
---
Vice Chairman
Franz Aschl
 SIGMATEK GmbH & Co KG
---
Treasurer
Mag. Alexander Melkus
SIGMATEK GmbH & Co KG
---
Vice Treasurer
Jürgen Sahm
PHOENIX CONTACT GmbH & Co. KG
---
Secretary
Ing. Benjamin Hlava
VARAN-BUS-NUTZERORGANISATION
---
Vice Secretary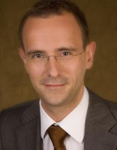 Herbert Moya
Harting Ges.m.b.H.
---