The broad product palette offers the right VARAN components for any job:
Various VARAN Manager and expansion cards, client components such as input/output, motion, sensors and communication. The product spectrum is rounded out with infrastructure components; the perfect connection is therewith guaranteed.
Naturally, kits for development and implementation as well as analysis and service tools are available.
9
Yes
Thumbnail
Thumbnail
'Detail'
1
Search...
/en/products/
Circular Hybrid Connector – CHC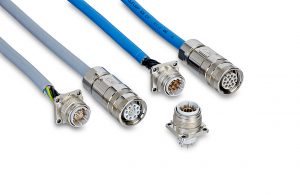 TE Connectivity (TE), der weltweit führende Anbieter von Konnektivität und Sensoren, bietet einen Rundsteckverbinder an, der vor allem für den Einsatz in Steuerungen für hydraulische und pneumatische Ventile vorgesehen ist. TE's CHC verfügt über 8 Strom- und 4 Datenkontakte und ist für Echtzeit-Maschinenautomatisierungsanwendungen konzipiert, die eine leistungsstarke Datenverbindung und eine Leistung von bis zu 10 A erfordern. Der Steckverbinder bietet eine hochzuverlässige Verbindungstechnik und erfüllt die hohen Anforderungen an Langlebigkeit und Qualität von Echtzeit-Ethernet-Anwendungen in der industriellen Automatisierung. Mit einer Nachrüstplattform bietet der CHC auch optionale Einsätze mit 11 Kontakten plus PE (Protected Earth). Der CHC-Steckverbinder wurde für industrielle Anwendungen mit schneller Kommunikation entwickelt und entspricht dem VARAN-Standard (Versatile Automation Random Access Network), dem Industrial-Ethernet-basierten Protokoll für die Fabrikautomatisierung. Typische Anwendungen sind Schweiß-, Stanz-, Fräs- und Spritzgussarbeiten. "Mit Strom und Daten in einem einzigen Stecker können TE-Kunden ein höheres Maß an Designflexibilität erreichen, insbesondere für Hersteller von Spritzgussmaschinen", sagt Wenbo Zhou, TE Connectivity Produktmanager. "Die VARAN-Bus-Standardkompatibilität ermöglicht es dem CHC, schnelle Umrüstzeiten durch eine vereinfachte Verkabelung zu unterstützen, die die Installationszeit um bis zu 50 Prozent reduziert."
TE Connectivity (TE), a world leader in connectivity and sensors, provides a circular hybrid connector (CHC), primarily for use in controllers for hydraulic and pneumatic valves. TE's CHC has 8 power and 4 data contacts and is designed for real-time machine automation applications that require a high-performance data connection and power up to 10 A. The connector delivers highly reliable connection technology and meets the demanding durability and quality requirements of real-time Ethernet applications in industrial automation. Using a retrofit platform, the CHC also offers optional inserts with 11 contacts plus PE (protected earth). Engineered for industrial applications with fast communication, the CHC connector meets the VARAN standard (Versatile Automation Random Access Network), the Industrial Ethernet-based protocol used in factory automation. Typical applications include welding, stamping, milling and injection molding operations. "With power and data in one connector, TE customers can achieve a higher degree of design flexibility, especially for manufacturers of injection molding machines," said Wenbo Zhou, TE Connectivity product manager. "The VARAN-Bus standard compatibility allows the CHC to support fast change-over times through its simplified cabling, reducing installation time by up to 50 percent."
Industrial Mini I/O
Industrial Mini I/O mit zuverlässiger Wire-to-Board-I/O-Schnittstelle, welche eine sichere Hochgeschwindigkeitsverbindung in verschiedenen Anwendungen und Winkeln ermöglicht. Mit seinen zwei Kontaktpunkten, die für sichere Verbindungen sorgen, ist dieser Verbindungsstecker für industrielle Umgebungen und hohe Vibrationsbelastungen ausgelegt und zeichnet durch erhöhte Zuverlässigkeit und signifikante Platzeinsparung aus.
Industrial Mini I/O with Wire-to-Board I/O interface, which enables secure high-speed connections in various applications and angles. With its two contact points, which guarantee secure connections, the Mini I/O is designed for industrial environments and high vibration resistance and excels with increased reliability as well as significant space savings.
M12 connector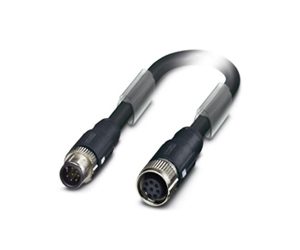 Phönix Contact bietet einen M12 Steckverbinder für die Versorgung eines VARAN-Busteilnehmers bis 2 A mittels Hybridkabel. Der 8-polige Stecker/Buchse mit Schutzart IP 67 ist in verschiedenen Anschlussrichtungen verfügbar. Das Hybridkabel ist schleppkettentauglich und speziell für den industriellen Einsatz ausgelegt.
Datenblatt M12 Stecker
Phoenix Contact offers an M12 connector for the power supply of a VARAN participant up to 2 A using a hybrid cable. The 8-pin plug/socket with IP 67 protection is available with various connector angles. The hybrid cable is suitable for drag chain use and especially designed for industrial applications.
RJ45 connector
RJ45 Stecker feldkonfektionierbar HARTING RJ Industrial
Industrietauglicher RJ45 Steckverbinder gemäß IEC 60603-7 zur zuverlässigen VARAN-Bus Verkabelung. Die Konfek-tionierung erfolgt ohne Spezialwerkzeug mit HARAX® Schnellanschlusstechnik und ist bis zu 10mal wieder-beschaltbar.
HARTING RJ Industrial RJ45 field-assemblable connector
Industry-suited RJ45 connector according to IEC 60603-7 for reliable VARAN bus wiring. The connector can be assembled without special tools with HARAX® quick connection technology and rewired up to 10 times.
RJ45 system cable
RJ45 Systemkabel HARTING RJ Industrial 
Industrietaugliche RJ45 umspritzte Systemkabel gemäß IEC 60603-7 zur zuverlässigen und schnellen VARAN-Bus Verkabelung. Besonders platzsparend durch gewinkelte Kabelabgänge.
HARTING RJ Industrial RJ45 system cable
Industry-suited RJ45 molded system cable according to IEC 60603-7 for reliable and fast VARAN bus wiring. Especially space-saving with angled cable outlet.
SV 141
Der S-DIAS Splitter VARAN SV 141 ermöglicht mit seinen vier VARAN-Out Ports den Aufbau eines VARAN-Bussystems in Baumstruktur. Die VARAN-Out Ports besitzen eine softwareseitig schaltbare +24 V-Versorgung für den VARAN-Bus. Durch diese Versorgung können spezielle VARAN-Peripheriegeräte ohne zusätzliches Versorgungskabel am SV 141 angeschlossen und mit +24 V versorgt werden.
Datenblatt SV141
With its four VARAN Out ports, the VARAN SV 141 S-DIAS splitter module allows a VARAN bus system to be configured in a tree structure. The VARAN Out ports have a +24 V supply for the VARAN bus, which can be switched via the software. With this supply, special VARAN peripheral devices can be connected to the SV 141 and supplied with +24 V without an additional power cable.
Data sheet SV141
VBC 021
Das VBC 021 Bus-Koppler Modul hat drei Standard VARAN-OUT Ports. Weiters zwei VARAN-IN und einen IP-Port.
Datenblatt VBC 021
The VBC 021 bus coupler module connects two independent VARAN networks at the field level. Data is exchanged in hard real time over a simple DPRAM function. Different cycle times can also be implemented in the network segments. The two independent VARAN Managers communicate over easy to implement driver compo-nents. The connection to the company network is made over the IP port.
VBC 121
Koppelmodul VARAN - EtherCAT
Zum Verbinden von VARAN- und EtherCAT Bus-Systemen
VARAN: 1x VARAN-In (RJ45), 3x VARAN-Out (RJ45), davon optional 1x Ethernet VtE (RJ45)
VARAN-Out Ports besitzen automatische Ethernet-Erkennung
EtherCAT: 1x EtherCAT-In (RJ45), 1x EtherCAT-Out (RJ45)
Für den synchronen Datentransfer steht ein Dreifachpuffer, für den asynchronen Datentransfer steht CoE (CanOpen over EtherCAT) und VoE (Vendor over EtherCAT) zur Verfügung.
Datenblatt VBC 121
Coupler Module VARAN - EtherCAT
For connecting VARAN and EtherCAT bus systems
VARAN: 1x VARAN In (RJ45), 3x VARAN Out (RJ45), of which optionally 1x Ethernet VtE (RJ45)
VARAN Out ports have automatic Ethernet recognition
EtherCAT: 1x EtherCAT-In (RJ45), 1x EtherCAT-Out (RJ45)
For synchronous data exchange, a triple buffer is provided. For asynchronous data exchange, CoE (CanOpen over EtherCat) and VoE (Vendor over EtherCat) is available.
Datenblatt VBC 121
VI 021
Das S-DIAS Anschaltmodul VI 021 dient zur Spannungsversorgung und Verbindung dezentraler S-DIAS Modulgruppen mit einer CPU durch den VARAN-Bus. Eine Modulgruppe besteht aus einem Anschaltmodul und bis zu 32 daran angeschlossenen S-DIAS Modulen. Durch den VARAN-Out Port wird der Aufbau des VARAN-Busses in einer Linienstruktur ermöglicht.
Datenblatt VI 021
The S-DIAS VI 021 module serves as the power supply and connection for decentralized S-DIAS module groups with a CPU over the VARAN bus. A module group consists of a control module and up to 32 connected S-DIAS modules. The VARAN Out port allows the construction of the VARAN bus in a line structure.
Data sheet VI 021
VSV 041, VSV 043, VSV 046
Splittermodule
Diese Splitter-Module ermöglichen den Aufbau von Stern- und Mischtopologien. Das VSV 041 und 043 verfügen je über einen VARAN-In Port und vier VARAN-Out Ports. Zusätzlich ist ein IP-Port integriert, der den Anschluss von Servicegeräten und die Integration in Standard Ethernet-Netzwerke ermöglicht. Die VARAN-Out Ports des VSV 043 verfügen zudem über eine interne 24 V Spannungsversorgung. Diese ermöglicht es, Peripheriegeräte mit nur einem Kabel anzuschließen und gleichzeitig zu versorgen. Das VSV 046 hat einen VARAN-In und und fünf VARAN-Out Ports. Optional kann ein Out Port als IP-Schnittstelle verwendet werden.
Datenblatt VSV 041 
Datenblatt VSV 043
Datenblatt VSV 046
Splitter Modules
These splitter modules enable the configuration of star and combined topologies. Both have a VARAN-In port and 4 VARAN-Out ports. An integrated IP port is also included, which allows the connection of service devices and the integration into standard Ethernet networks. The VSV 043 VARAN-Out ports also have an internal 24 V voltage supply. This allows periphery modules to be connected and powered using only one cable.