The broad product palette offers the right VARAN components for any job:
Various VARAN Manager and expansion cards, client components such as input/output, motion, sensors and communication. The product spectrum is rounded out with infrastructure components; the perfect connection is therewith guaranteed.
Naturally, kits for development and implementation as well as analysis and service tools are available.
9
Yes
Thumbnail
Thumbnail
'Detail'
1
Search...
/en/products/
Network Analyses & PC Expansion Cards
cifX
PC-Karte als VARAN Client Schnittstelle
Intelligente VARAN Client PC-Karte für die PC basierte Automatisierung. Datenaustausch zum Host-Prozess erfolgt über ein Dual-Port-Memory oder per DMA. cifX ist in allen gängigen Formfaktoren erhältlich und unterstützt alle führenden Real-Time-Ethernet Protokolle auf einer einzigen Hardware.
PC card as VARAN client interface
Intelligent VARAN client card for PC based automation. Data exchange to the host process is carried out via Dual-Port Memory or by DMA transfer. cifX is available in all common form factors and supports all major Real-Time Ethernet protocols on a single hardware.
VA 062
C-IPC Erweiterung
Mit dieser Erweiterungskarte kann der C-IPC um ein Analysetool für den VARAN-Bus erweitert werden. Der VARAN Analyzer kann über das VARAN Service Tool bedient werden. Das spezielle Design erlaubt eine einfache Montage und Befestigung der Erweiterungskarte.

Datenblatt VA 062


C-IPC Expansion Card

With this expansion card, the C-IPC can be expanded with an analysis tool for the VARAN bus. The VARAN Analyzer can be operated using the VARAN Service tool. The special design allows the expansion card to be easily mounted and secured.

Data sheet VA 062
VARAN Analyzer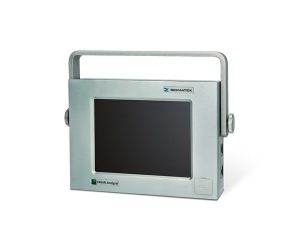 VARAN Analyzer
Mit dem VARAN Analyzer kann das Übertragungsverhalten des Bussystems direkt an der Maschine analysiert werden. Die Datenpakete werden in Echtzeit aufgezeichnet und dekodiert. Bedient wird das handliche und robuste Gerät über den 5,7" Touch-Screen. Die Darstellung erfolgt übersichtlich in tabellarischer und grafischer Form. Eine Vielzahl von Trigger- und Filterfunktionen unterstützen den Anwender. Der Analyzer kann im laufenden Betrieb einer Maschine angebunden werden – an jeder beliebigen Stelle im Netzwerk. Über die beiden VARAN-Schnittstellen lässt sich das Analysegerät auch in Linientopologien einbinden. Für weiterführende Analysen können die Daten über die USB-Schnittelle oder über TCP/IP exportiert werden.
Datenblatt VARAN Analyzer
VARAN Analyzer
With the VARAN Analyzer, the transmission behavior of the bus system can be ana-lyzed in the machine directly. The data packets are recorded in real time and then decoded. This handy and robust device is operated using the 5.7" touchscreen. The data is displayed in a clear tabular and graphic form. Numerous trigger and filter functions support the user. The analyzer can be connected to the machine during operation - at any location in the network. The analysis unit can also be connected in line topologies over the 2 VARAN interfaces. For further analyses, data can be exported over the USB interface or over TCI/IP.
Data sheetVARAN Analyzer
VA 011
VA 011
Das S-DIAS VARAN Analyzer Modul VA 011 ermöglicht die Analyse der Kommunikation eines Echtzeit-Ethernet VARAN-Bus-Netzwerkes. Der Anschluss erfolgt an einem freien VARAN-Port. Für den Fall, dass kein Port verfügbar ist, kann eine bestehende VARAN-Bus Verbindung einfach aufgetrennt und der VARAN Analyzer eingefügt werden. Die zu analysierenden Daten werden über einen Gigabit Ethernet Port ausgegeben und können über das VARAN Servicetool ausgewertet werden. Es besteht weiterhin die Möglichkeit, die Daten über Wireshark und ein von SIGMATEK bereitgestelltes Protokoll-Plugin zu analysieren.
Datenblatt VA 011
VA 011
The VA 011 S-DIAS VARAN Analyzer module allows the analysis of communication in a real-time Ethernet VARAN bus network. The connection is made over a free VARAN port. If no port is available, an existing VARAN bus connection can simply be removed and the VARAN Analyzer inserted. The data to analyze are output through a Gigabit Ethernet port and can be evaluated with the VARAN Service Tool. The option is also available to analyze the data via Wireshark and protocol plug-in from SIGMATEK.
Data sheet VA 011
VARAN Service Tool
VARAN Service Tool
Das VARAN Service Tool stellt Service- und Analysefunktionen für den VARAN-Bus und dessen VARAN Clients zur Verfügung. Über eine topologische Baum-Ansicht können alle VARAN Clients und deren Typenschild angezeigt, das Typenschild editiert und Softwareupdates durchgeführt werden. Mit Hilfe des VARAN Analyzers kann eine Analyse der Kommunikation am VARAN-Bus durchgeführt werden.
VARAN Service Tool
The VARAN Service Tool provides service and analysis functions for the VARAN bus and its VARAN clients. Over a topological tree view, all VARAN clients and their type labels can be displayed, the type label edited and software updates made. Using the VARAN Analyzer, a communications analysis can be run on the VARAN bus.
VARAN Client Simulator MB-29
VARAN-Client-Simulator MB-29
Mit dem VARAN-Client-Simulator MB-29 von Synchronics ist es möglich, Teile der Maschine zu simulieren, die zum Zeitpunkt des Tests nicht verfügbar sind, etwa weil zwar der Schaltschrank, nicht aber die Maschine zur Verfügung steht. So lassen sich Abläufe der Maschine auch ohne diese Komponenten testen. Aus Sicht von VARAN verhalten sich die Simulatoren so, also ob sie reale Komponenten wären. Der Simulator ist universell einsetzbar – aktuell können Balluff-Wegmesssysteme und Hydraulikventile von Rexroth simuliert werden. Das System kann aber durch ein Update der Software so erweitert werden, dass sich beliebige andere Komponenten simulieren lassen.
Der Aufbau des Systems sieht folgendermaßen aus: Über eine VARAN-Schnittstelle für 16 Simulatoren kann konfiguriert werden, welcher Simulator welchen Komponententyp simuliert. Zudem lassen sich Simulationswerte vorgegeben. Ein Beispiel dazu: Wird ein Wegmesssystem von Balluff simuliert, kann ein beliebiger Wegmesswert vorgegeben werden. Es ist möglich, diesen laufend zu verändern, wodurch eine Bewegung simuliert werden kann.
VARAN Client Simulator MB-29
With the VARAN Client simulator MB-29 from Synchronics, sections of the machine can be simulated that are not available at the time of testing. Because for example, the control cabinet may be available but not the machine. The machine processes can therefore also be tested without these components. From VARAN's perspective, the simulators behave as if they were real components. The simulator is universally implementable – currently, Balluff distance measuring systems and hydraulic valves from Rexroth can be simulated.
The system can however, be expanded with a software update that allows simulation of any other component. The system is configured as follows: Over a VARAN interface for 16 simulators, it is possible to configure each simulator for a specific component type. Simulation values can also be predefined. An example: If a distance measurement system from Balluff is simulated, any distance measurement value can be preset. This can be continuously changed, whereby a movement can be simulated.
Network Analyses & PC Expansion Cards